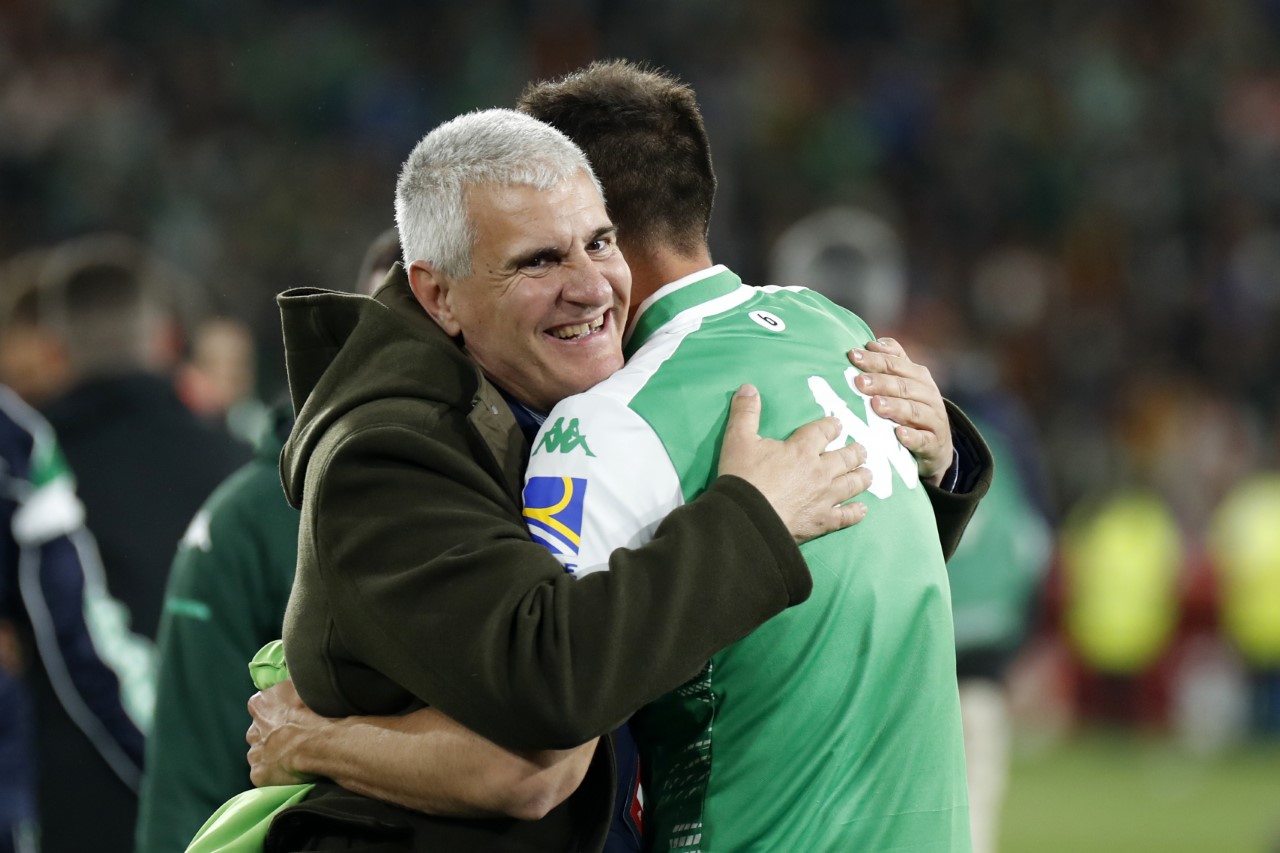 Letter from Antonio Cordón
As you may know, several weeks ago I told the Club my decision to end this cycle, unforgettable for me, purely based on professional reasons, and without knowing what I will do in the future.
What I do know is what I was told before I came, that the Thirteen Green and White Stripes mean humbleness, joy, nobility, passion, tears, self-government, an infinite feeling, and that their fans are the chosen ones.
And they fell short in the description. Because it is much more than that. During this time, I realized that nothing or nobody is more important than Real Betis Balompié.
I have been able to share the process of awakening the Giant, living in Seville, sharing with the citizens, seeing their looks when I met them in the street, and hearing their comments. Always with a smile, and always with joy, telling me "We have to win on Sunday, Don Antonio?" To everyone I met in these 33 months, I can only be thankful, because their words were always of support and passion.
I will never forget the Copa del Rey celebration, walking among the fans with my family, waiting for the bus with our players to pass by. Just like another fan, enjoying and sharing smiles, excitement, seeing all those happy faces, with families of Béticos being part of that day.
To the players, the staff, and all the employees, I have no words? You are the most important parts and the ones who have stabilised the club with your work, your commitment and, especially, your values. You have taught me, through your behaviour and actions, that we have to live every day with passion, with respect, holding our heads high and, always, walking steadily. I'll take you in my heart and you will always be, in my view, the best. Keep listening every day to the advice of the best Engineer there is.
To my colleagues in the football direction, youth teams, office staff, and everyone who work every day for the Club, my gratitude for being "leaders without a title". In my first months, we talked and I asked from you that without your excellence, dedication, and love, it would be impossible to have a successful cycle. Your working ability, humbleness, honesty and team spirit will be with me forever. Thank you for making me feel just another one of you.
And thank you to the board of administrators and, especially, the president Ángel Haro, and vice-president José Miguel López Catalán, for giving me the opportunity to help the achieve success during this time.
Lastly, I would like to thank all the media workers in Seville for the way they have treated me during this time. You treated me with respect and education, and have no doubt that every criticism I received helped me to keep growing.
Wherever I go, I will continue being another fan, supporting, suffering and jumping just like the rest of you!
To my beloved awaken Giant and all its people, I wish you all the best. I will never forget you.
Long live Betis!