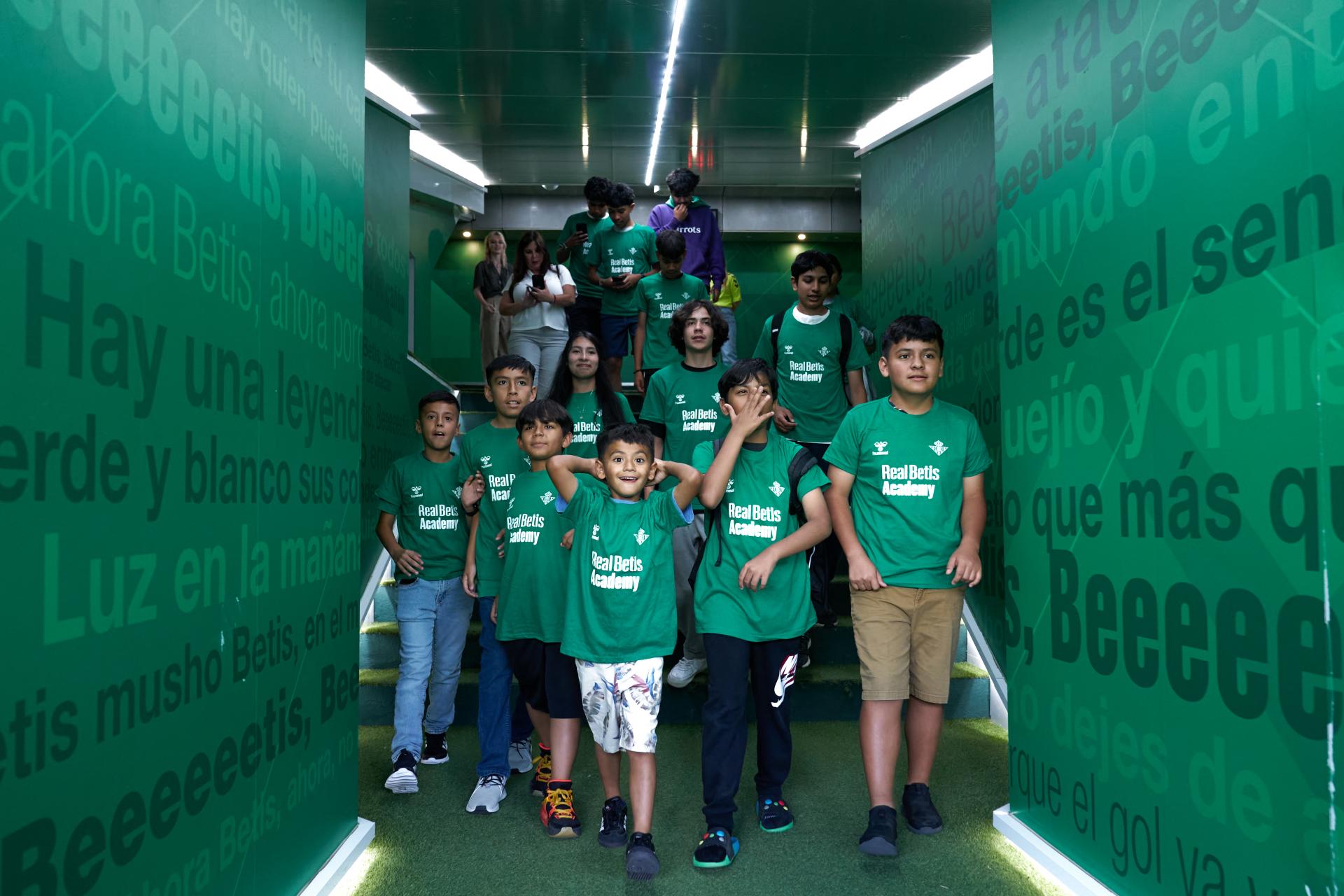 Real Betis Academy Arizona arrives in Sevilla
On Wednesday, players from Real Betis Academy Arizona arrived at the Benito Villamarín Stadium shortly after a winning season back home to participate in the Inside Betis experience.
On Wednesday, the Benito Villamarín stadium welcomed players from Real Betis Academy Arizona. The players from the United States arrived just shortly after a winning season back home to participate in the Inside Betis experience.
Real Betis Academy Arizona is the first and only Real Betis Academy in the United States. Their U15 group were recent champions of a local tournament that consisted of more than 90 other teams. The academy welcomes players ages 5 to 17 to train under the Real Betis methodology.
"We did a survey when we first started the academy, we saw that there were some people who knew who Betis was. So we came in, and we wanted to push Betis and really wanted to build the brand and start there and start to make it so families and schools really started to recognize Betis. One of the things we do is we have a school program. We take soccer and Betis to the schools as opposed to waiting for them to come to us. And its worked out really well, its been pretty successful," recounted Mike Mills, co-director of Betis Academy Arizona.
Furthermore, one of the players received a scholarship, thanks to the local community. Daniel was able to live the Inside Betis experience for free. He was recognized not only for his soccer playing abilities, but also his character, which reflected the values of a true bético and a team player. Daniel attended every practice and demonstrated excellence in multiple areas, according to co-director Nuria Berro.
"They had this program and they came to our school and they gave us a chance to win a scholarship and fortunately I won," recounted player Daniel, who is in elementary school and says his favorite player is Andrés Guardado. " I never imagined I would be here but I'm happy to be here."
"We had 37 kids that competed for a scholarship," said Mills. "It wasn't just about soccer and skills - it was also about being a good teammate, it was about their academics, it was about community service. There was a certain criteria we rated each kid and then we selected Daniel. It's really special, and something that he can be proud of, that his family can be proud of, that even the school can be proud of because they provided that opportunity for him. It shows him and these kids that things happen when you put in the work."
The fourteen players from Arizona arrived at the stadium Wednesday evening, where they toured the Betis museum, viewing all the jerseys and trophies from the team. They saw the locker room, where they took pictures in front of their favorite player's spots. To much amazement, the players walked onto the field of Estadio Benito Villamarín, on the same field they would soon watch Sunday's game against Valencia.
"To me I joined as a team, but as I started to get to know the teammates and coaches it became more like a family so it's a nice community that I've been around for a little while," said Sergio, one of the members of the U15 group that had just recently won the local tournament.
Early Thursday morning, the players trained hard with the verdiblanco trainers in the Cantera. They were split into two groups and did extensive drills. The kids took advice and encouragement not only from the trainers, but from one another. Their spirit was infectious and their improvement was clear. After a long day of training, the players walked off the field smiling and joking with one another.
"My first time on the field was really good," reflected one of the players after a long morning of drills. "I think we all played really well, and there's still a lot more to learn. Spain is really good and really different from Arizona, between the environment and the coaching. I don't really speak a lot of Spanish so it's a little hard for me but I think it's a good experience to play in different places, learn a new language, and learn a new play style. Here it's fast paced really technical, with a lot of passing, dribbling, and passing back, so I'm adapting."
The visit was not only about improving technical skills, but giving the players a unique opportunity to experience a different culture. Real Betis Academy has locations in 4 different continents and has enrolled over 1,000 students in their programs. Every player has the opportunity to train at a higher level while learning important values of sportsmanship. The Inside Betis experience brings players from around the globe to inspire them further.
"It's been great, it's been fabulous, it's been one of the things we've really really wanted to do to have them experience," said Mills. "It's not just a club, it's part of an international experience. It's really special for the kids to come out and see something like this, and empower the kids to know that they're part of something larger than just a single situation in Arizona."
Thanks to this hard-working community of béticos in Arizona, children from across the world have been able to have a unique experience in Sevilla. In their expansion, Real Betis has extended their brand and values past the borders of Spain to a new group of players who can take this unique experience home with them and continue to improve their soccer skills. In this way, Real Betis has become a family around the world.
"It was amazing, it was my first time experiencing anything like this," said scholarship winner Daniel. "Betis to me is like a team that is in your heart."