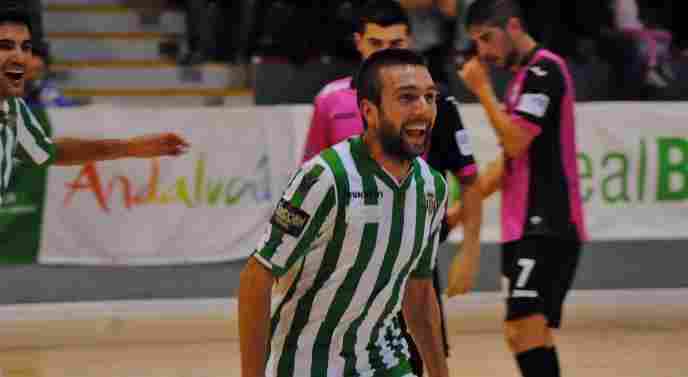 Wallace.
Wallace, a Green-and-White icon who says farewell after six seasons
The English player leaves the club where he spent his best years as a footballer
Humility, commitment, and consistency are the values that better describe Wallace. One of Real Betis Futsal captains until last season, his last in the team.
Six seasons has Wallace spent in the Green-and-White club. He has made it in two different spells. First, in the 2010/2011, and the second between 2012 and the season that recently finished.
For the player, having played at Real Betis Futsal has been "the most beautiful stage of my career, because of the people I've met and the friends I made."
In spite of being one of the most important players during his time in the team, Wallace has always been just "another member of the squad. The main thing for me are my teammates. They're more than that, I'd consider them friends or even family. I play because I enjoy it. If I'm not enjoying, it can be noticed, and I've always enjoyed thanks to my teammates."
The Englishman will never forget the great moments he went through in this Club: "It's been a pleasure to defend Real Betis crest and feel at home. I've always felt this place like home and that's why I spent here such a long time."
A true and humble gentleman, Wallace says that his intention has always to his best: "I don't think I've been important, I just try to play the best I can every time I set foot on the court. Sometimes it works well, and some others it doesn't, but I never stop trying."
Last year, Wallace created a futsal academy in his hometown, El Puerto de Santa María, where he tries to teach children who enjoy at the Wallace Futsal Academy.
The player wanted to leave a message for all the fans and teammates: "The only thing I can say is thank you to all those people who have been with us. A thousand thanks to all the teammates, coaches, managers, chairman, everyone who's been in the Club, thank you. Hopefully, this is just a 'see you later'."