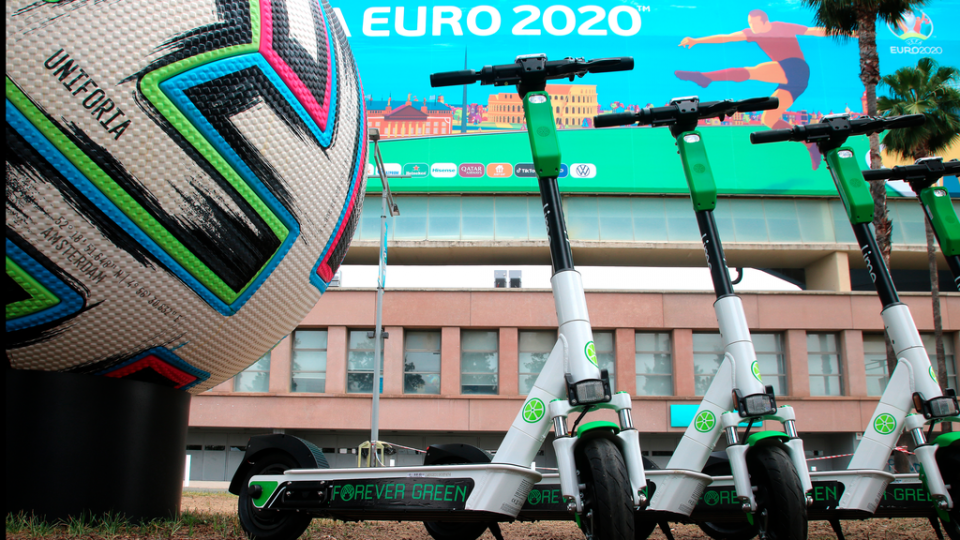 The Forever Green scooters arrive to UEFA EURO 2020
Real Betis and Lime have donated a fleet of these sustainable means of transport for the Euro employees based in Seville
The Forever Green scooters have landed in the UEFA EURO 2020. Real Betis Balompié and the micromobility company Lime have donated several scooters to be used by the tournament employees based in Seville.
Following the success that using this mean of transport has had among the Club's employees, Forever Green and this mobility company have kickstarted this campaign to promote sustainable transportation among the workers and volunteers of the UEFA EURO 2020. With this initiative, commuting by car or motorbike will be reduced and tons of CO2 emissions will be saved.
Through this action, Forever Green, the sustainability platform that looks for the power of sports to help saved the planet from the effects of climate change, will cooperate with UEFA EURO 2020 to increase its visibility and make the commitment of Real Betis Balompié with the environment even bigger.
Lime is preparing its new landing in the city of Seville after winning the RFP for the pilot project of two thousand shared electric bicycles. The world's leading micromobility company, which was operating its scooters until the outbreak of the pandemic, generating more than 350,000 trips and saving 187,000 kg of CO2 emissions, hopes to become once again the favorite sustainable alternative for Sevillians as soon as the City Council allows them to operate.