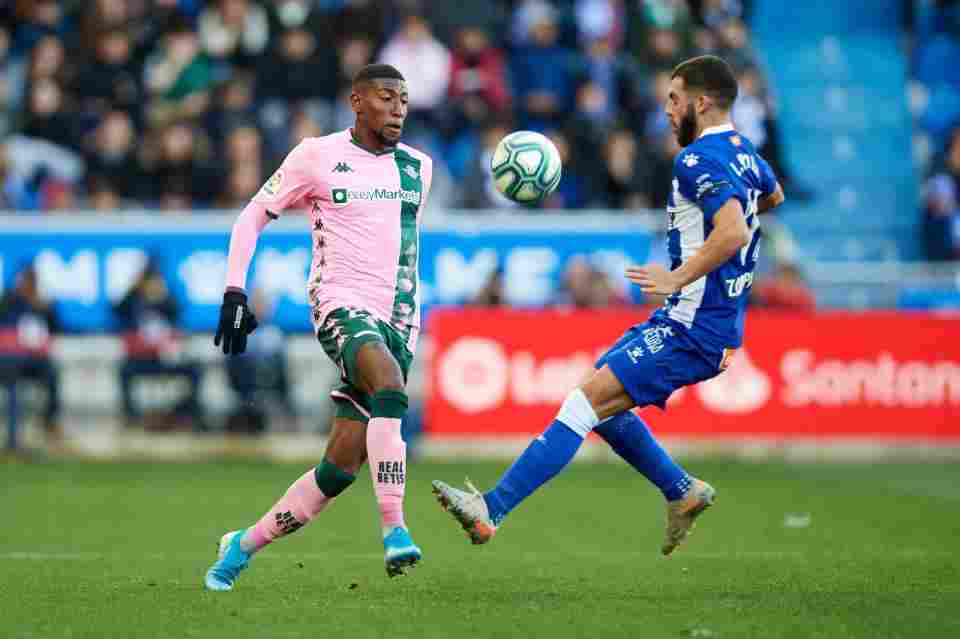 MATCH REPORT | Draw at Mendizorroza (1-1)
Emerson scored for the Green and Whites
Real Betis Balompié got a point in the first match of the year against Deportivo Alavés. The locals took the lead in the first half through Vidal. Emerson tied the score up in the second half. Joaquín missed a penalty and Feddal was sent off ten minutes before the end, but the feeling was that Betis deserved a better result.
Four minutes into the game and Betis had the first chance. Borja Iglesias made a run and stepped into the area but sent his effort over the bar. The next one was for Fekir with a left-footed effort that went wide.
In spite of this good start, Alavés scored in their first approach to the area with a strike from Vidal. Betis had their worse moments after the goal, struggling to create plays. But the team reacted and had a good final stage of the first half.
Fekir tried inside the area but sent his effort wide. The Frenchman had the best so far in the game for the team when he received a good pass from Iglesias and set foot inside the area. He curled the ball to the far post but just missed the target. Just before the end of the first period, Fekir was brought down inside the area and the referee pointed to the spot. Joaquín shot but Pacheco guessed right and stopped the ball.
At the beginning of the second half, again Fekir got really close, this time finding the side netting. Joaquín had the next one but again his shot was too bland to create trouble to the locals' keeper. Finally, the goal came. Fekir delivered a cross to the far post where Emerson jumped higher than the defenders and nodded the ball in.
Betis wanted more and continued attacking. The Green and Whites had the ball more than the opposition and were constantly trying. Then, ten minutes before the end, Feddal was sent off for a foul just outside the box. A few minutes later, Aleñá made his debut as a Betis player.
Even being one man down, Betis tried until the end but could get nothing else.
Deportivo Alavés: Pacheco, Ximo Navarro (Martín 69'), Laguardia, Ely, Duarte, Aleix Vidal (Pons 80'), Manu García, Wakaso (Burke 85'), Rioja, Lucas Pérez, Joselu.
Goals: Vidal (14').
Booked: Joselu (21'), Wakaso (33'), Duarte (44'), Manu García (44'), Rioja (67'), Martín (91').
Real Betis Balompié: Joel Robles, Emerson, Mandi, Bartra, Feddal, Álex Moreno, Guardado, Canales, Joaquín (Lainez 72'), Fekir (Aleñá 80'), Borja Iglesias (Loren 82').
Goals: Emerson (54').
Booked: Fekir (32'), Canales (45'), Bartra (93').
Sent Off: Feddal (77').