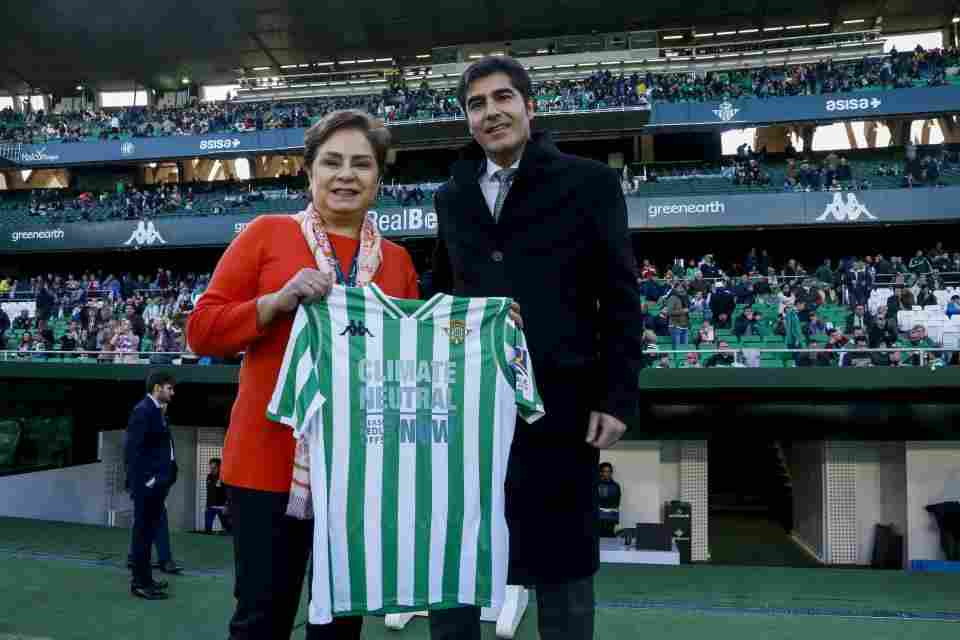 Real Betis aims to become Climate Neutral
It will be the first club in Spain to do it so
In an unprecedented move for a LaLiga football club, Real Betis Balompié has officially joined the Climate Neutral Now initiative of UN Climate Change, committing to take action to reduce its greenhouse gas emissions and to compensate the rest.
Furthermore, the club has committed to becoming a platform and a facilitator for raising awareness about the urgency of climate action among its millions of fans worldwide.
By measuring, reducing, and compensating its emissions, Betis will become the first top-tier team to achieve a climate neutral status to help avoid the worst effects of climate change, which include ever more severe storms, droughts, heatwaves and flooding.
"Since the beginning, Real Betis Balompié has been about its family, its members and fans. We strive to ensure that they feel Betis represents them and supports them, just as much as they support us", said Mr. Ángel Haro, President of the club. "Taking action on climate is also about them, it's about our family. We understand that climate change is a threat to the livelihoods and the wellbeing of everyone on the planet, and we are doing our part".
The new sports city being built by Real Betis will feature renewable energy generation on site, advanced waste collection and treatment systems, many trees, and efficient energy applications. In addition to this, the club is installing smart illumination systems in its stadium, Benito Villamarín in Seville, and taking measures to reduce single-use plastic, among other activities.
"Our plan is to develop a detailed inventory of our emissions and define more actions to be taken to reduce emissions. But we will not wait. We are already implementing easy to implement opportunities and we will become a channel for communicating the urgency and the opportunities for taking climate action, starting in-house with our players and staff. In our country, we are already experiencing extreme heat and an increasing lack of water. We all have to do our part" says Mr. Ramón Alarcón, Business Director of the club.
"We are encouraged to see Real Betis align its business with the climate agenda. We are inspired by their focus on serving their community, engaging their fans, and working together with others in a respectful, responsible manner. We are happy to have them as one of the signatories of our Climate Neutral Now initiative" says Mr. Niclas Svenningsen, manager of Global Climate Action at UN Climate Change.
For more information on the Climate Neutral Now initiative, see here.