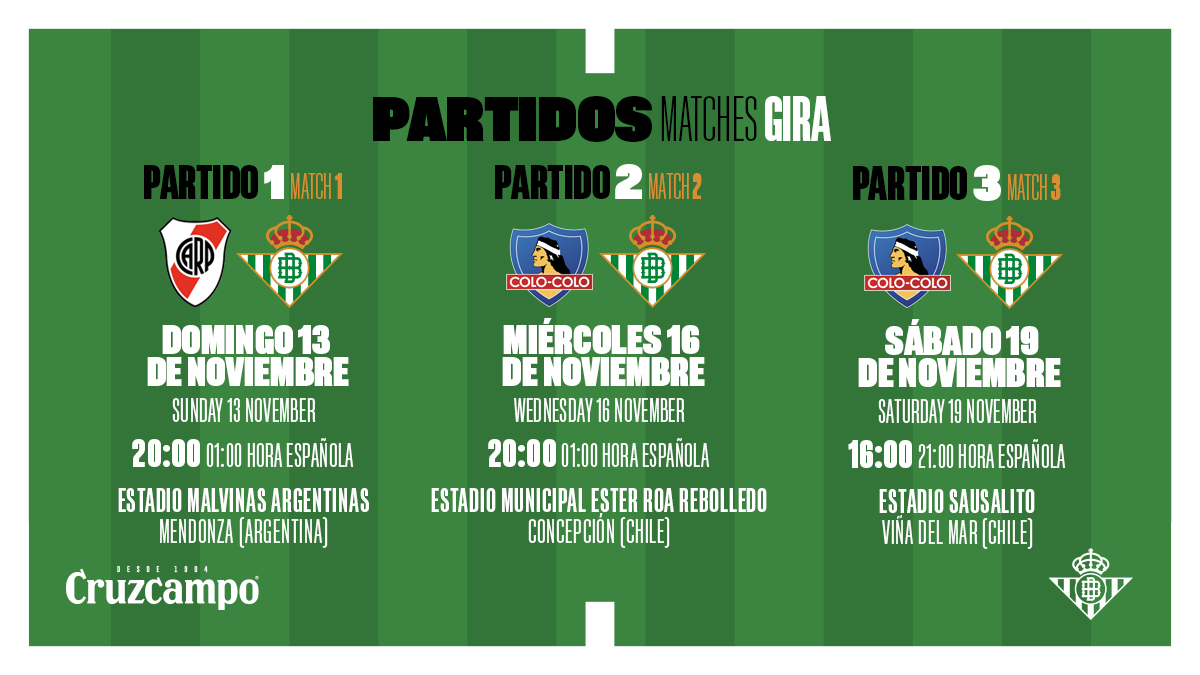 Real Betis will play in Argentina and Chile during the World Cup break
• Between the 11th and 19th of November against River Plate and Colo Colo
Real Betis Balompié will use the international break due to the World Cup to travel abroad and continue with their international business development plan. All of it under the scope of LaLiga Impulso, and with the target of strengthening their brand positioning at a global level, generating new business opportunities and taking Spanish football to other territories.
Real Betis will visit Argentina and Chile, where the Green and White team will play one game against Club Atletico River Plate and two against Club Social y Deportivo Colo Colo between the 11th and the 19th of November. The squad will leave Seville on the 11th of November towards Mendoza (Argentina). There, a friendly game against River Plate will take place. The kick-off will be on the 13th of November at 8 p.m. local time (1 a.m. CET on the 14th of November). This will be one of the last games of Marcelo Gallardo in charge of the team from Buenos Aires.
The second game will take place in the Chilean city of Concepcion. Real Betis will face Colo Colo, the current Chilean champion, on the 16th of November at Estadio Municipal Ester Roa Rebolledo also at 8 p.m. local time (1 a.m. CET on the 17th of November).
The tour will end on the 19th of November in Viña del Mal in another match against Colo Colo. The game will start at 4 p.m. local time (9 p.m. CET). All the game will available to watch on Betis TV.
Real Betis have many members on their team from both South American countries. Head coach Manuel Pellegrini and goalkeeper and Chile national team captain Claudio Bravo are two big names in Chile. Germán Pezzella and Guido Rodríguez are part of the Argentina national team and both came up from River Plate academy. Also, assistant coach Rubén Cousillas is one of the historic goalkeepers of Argentinian side San Lorenzo.
It will be the fifth time that Real Betis do a tour in the Americas. In 1981, they played in Paraguay, Ecuador, Peru and Chile. In 1987, the team travelled to Uruguay. In the 2018/2019 postseason, the squad made a tour around the United States; and in the 2019/2020 preseason, in the Mexican cities of Queretaro and Puebla.