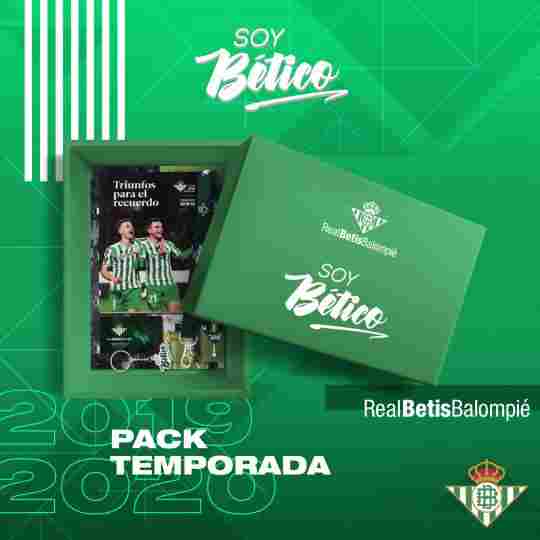 Pack Soy Bético.
The 'Soy Bético' membership for this season is now available
Enjoy your Betis feelings anywhere in the world with this card with new content and promotions
The 'Soy Bético' membership for the season 2019/20 is now available. A supporter's card that would allow you to enjoy your Betis feelings wherever you live.
For yet another year, the holders of this membership will receive a pack with exclusive material. This year, we have included in the pack an environmental-friendly fag to show your love for the Green and White colours at work or in school; the official photos of Real Betis Balompié and Real Betis Women; the discount coupons for the Betis Tour Experience; the 50% price discount promotion for two tickets for matches in Benito Villamarín Stadium; the priority pass to take a child's picture with the team on a match day; and a 'Soy Bético' key ring. Apart from all of that, we are adding another number to the collection of season yearbooks with a new exclusive format, titled 'Triunfos para el recuerdo' (Victories to remember).
Also, the 'Soy Bético' members have privileged Access to the season ticket waiting list for Benito Villamarín Stadium, which is sorted by seniority.
The price of this membership is only 30 Euros, plus 5 Euros for shipment in case the holder could not pick it up in the Stadium.
The 'Soy Bético' membership can be purchased at the ticket office at Benito Villamarín Stadium or in the following link: https://abonados.realbetisbalompie.es/index.php/es-es/?option=com_simpatizantesbm&view=bienvenida
Also, those who already were members last year can now renew their membership.