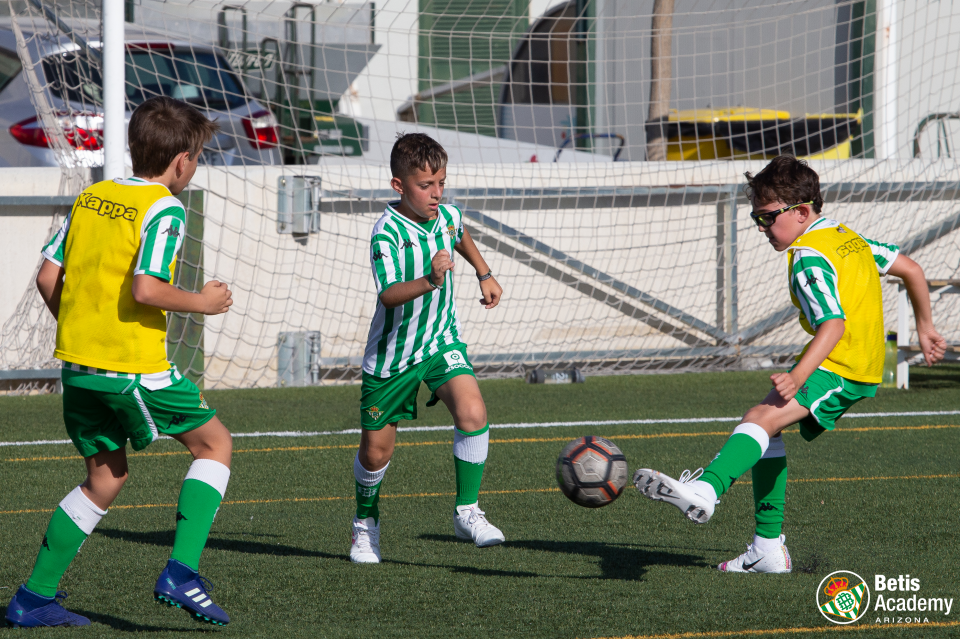 Real Betis Balompié create Betis Academy Arizona
The Club continues with its international growth through the opening of a new sporting project in the United States after establishing its presence in Zimbabwe, Mexico, Irak or Algeria
Real Betis and its Foundation have kickstarted a new sporting project in Arizona. This addition joins a list of already running projects in China, Morocco, United States, Mexico, Algeria and Zimbabwe. Betis Academy Arizona is part of the Club's strategic plan for the expansion of its brand and methodology around the world. Educate through football and transmit the values of the institution.
The Green and White Club will begin the activities of Betis Academy in 2022 Goodyear, Arizona, to develop football in the area using the Club's methodology. This project id coordinated by Juan Parra, manager of the sporting area at Real Betis Balompié Foundation and will have a technical staff provided by the Club to supervise the implementation of the methodology.
Betis Academy Arizona has capacity for 600 children aged between 5 and 16 years old who will improve their football skills throughout the year. Apart from the Academy itself, trips to Seville will be organized, if the health condition allow it so, so the boys and girls will enjoy VIP Betis experiences.
The Academy will be launched through a partnership with Build legacy Athletics (BLA). "We will be offering a program that it doesn't currently exist in Arizona! Our athletes will have a Real Betis Balompie approved program that will focus on the true development and growth for them to each to meet their individual potential whatever that may be. Physical, mental, and skill growth will be happen in an exciting and positive environment utilizing Betis methodologies and values. This is the beginning of a great journey and we couldn't be more excited!" said Mike Mills, Co-Director of BLA.
"Real Betis is not only a club is a way of living and we will be honored to implement Real Betis core values not only individually but among our teams and everyone involved with the Academy. It will be an amazing opportunity for the Arizona youth! Our commitment is to provide the Real Betis Balompie experience in Arizona and create a long lasting partnership for our soccer community creating a real soccer atmosphere promoting events for players and their families celebrating all Real Betis successful experiences and news. It is an honor to present Betis Academy in Arizona as the first Real Betis Balompie international academy in USA" says Nuria Berro, Co-Director of BLA.
"We keep generating interest outside our borders and taking our values and colours around the world through the methodology we use in the Youth teams at Real Betis Balompié", explained Ramón Alarcón, Real Betis general business manager.
Juan Parra, manager of the Sporting Area at real Betis Foundation, has outlined the importance of this project bout at a sporting level, by improving the players' football skills, and from a social point of view. "Projects like this show that real Betis and its Foundation are working so children all over the world can enjoy Betis, sport and its values."
Betis Academy
Betis Academy is a sports international project developed by Real Betis and its Foundation. It has and Academy in Zimbabwe that was opened last season and has been renewed for another year. Betis Academy is also underway in Irak and Mexico. Several campuses have been made around the world: United States, Mexico, Morocco or China, among others. The Real Betis Foundation has been working for years with the youngest population in Seville with the Betis School and has also opened Academies in other parts of Andalusia.