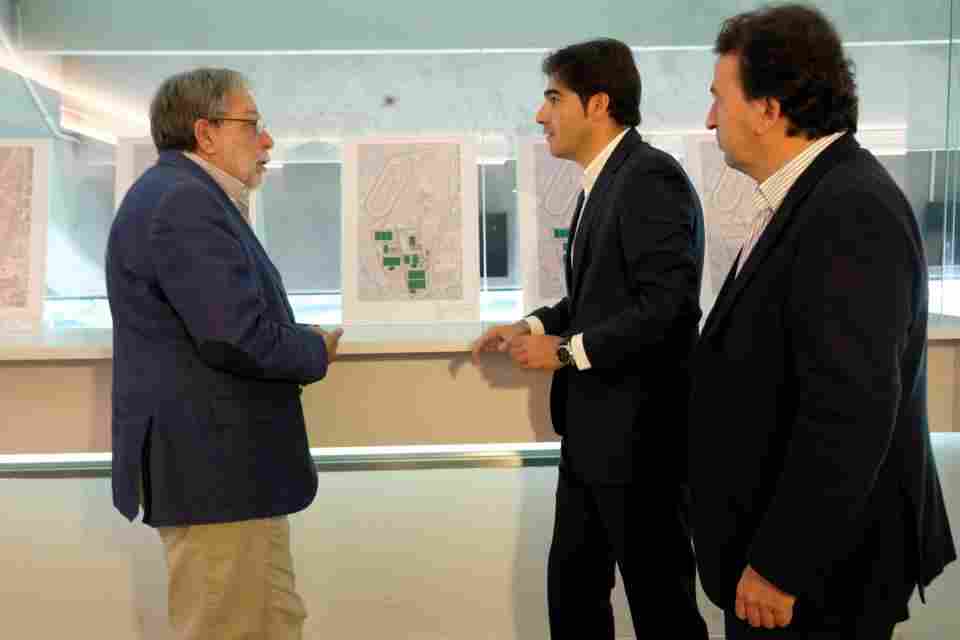 Real Betis presents the project for the new Training Centre in Dos Hermanas
The Club has designed a complex with 15 football pitches in this town close to Seville
Real Betis Balompié has presented to Dos Hermanas City Council the project for the new Training Centre the Club wants to develop in the near future. The chairman of the Green and White institution, Ángel Haro, and Dos Hermanas mayor, Francisco Toscano, have met at Benito Villamarín Stadium to for the first to present and explain the details of the project, that is planned to be developed in the area of Entrenúcleos, located in Dos Hermanas, just 15 minutes away from Benito Villamarín Stadium.
The Club has explained to the Council a complex of 138,379 acres for the construction of 15 football pitches, with the idea of nine of them made of natural lawn and six of artificial turf. The project will be undertaken in five phases, with the first one of them planned for the 2019/2020 season. The budget for the new Training Centre will be around 30 million Euros, distributed in each one of the phases,
Apart from the football training pitches, the Training Centre at Dos Hermanas will also have a small stadium for the matches played by Betis Deportivo and Real Betis Women that would require a bigger capacity. Also, the Club will build an indoor training pavilion. Another important element will be the new residence for Real Betis Academy players. Apart from the sports buildings, it is planned to build a retirement house for the elderly, which be managed by the Club's Foundation.
Initially, this new Real Betis project is aimed for the Academy and the Club's different sections, while Luis del Sol Training Centre, located just 200 metres away from the Benito Villamarín Stadium, will remain mainly for the first team.
Once that the project has been presented to Dos Hermanas City Council, this institution will analyse the project and its urbanistic and administrative viability, and their decision will be known in upcoming dates. The meeting went with a good understanding between the parties. The project could generate around 100 jobs during the construction and another 25 once it is finished.
The new Training Centre will be located in a prime spot regarding communications, really close to the SE-40 highway and the extension of the Line 1 of Metro Sevilla that has already been planned. There is a project to build 20,000 homes in the area of Entrenúcleos as well. The area is fully equipped already in terms of water, electricity and access. This has been one of the keys in the decision of choosing this area among all the proposals received from different city councils in Seville's metropolitan area. The project will be done in a sustainable and energetically efficient way.