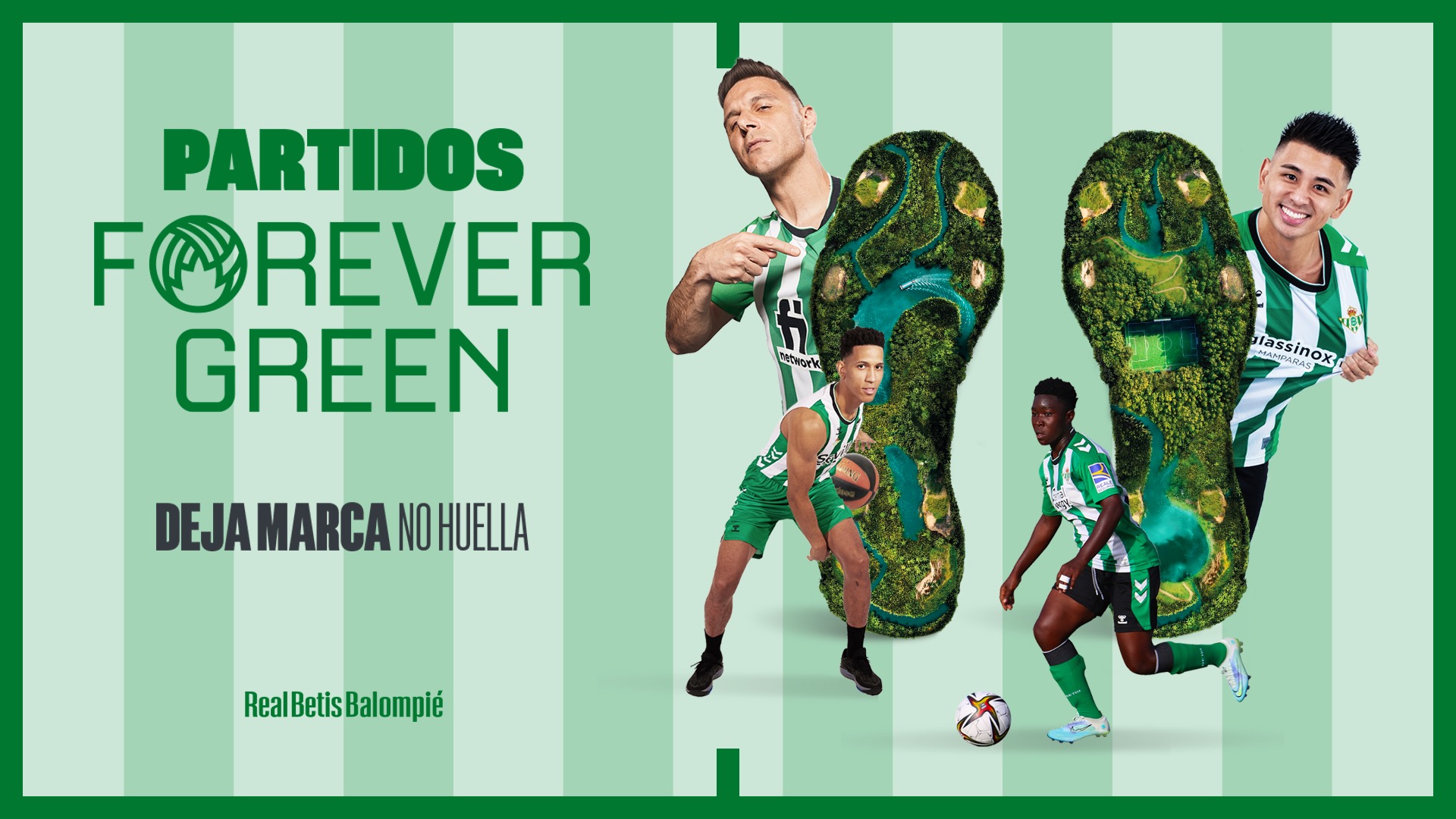 Real Betis - RCD Espanyol will the Forever Green game, LaLiga match for sustainability
The Green and White Club wants to give visibility and mobilise society in the fight against climate change. All the teams of the club will play with a special kit made out of recycled material
Real Betis Balompié and professional sport show again their commitment against climate change with -for the second season in a row- the Forever Green game, the LaLiga game for sustainability. This season, the match is Real Betis ? RCD Espanyol, Match 29 in LaLiga, that will be played between 14 and 16 of April, and is aimed to create conscience in the protection of the environment through several actions on match day. Real Betis will also play that game with a special kit made out of recycle material.
The Green and White club will make, for the first time, extensive this action to the different sections of the institution. In fact, Real Betis Basket ? Unicaja will the first Forever Green game this season, on the 26th of March. The initiative has been presented by Real Betis CEO, Ramón Alarcón, at Seville Aquarium, a key place for the preservation of nature and protection of biodiversity.
One player of each section was present today in the event: Luiz Felipe, Real Betis men's first team; BJ Johnson, Real Betis Basket; Gaelle Thalman, Real Betis Women; and Pablo Otero, Real Betis Futsal.
One of the most spectacular moments was the unveiling of the special kit the four teams will use in the game against climate change. Inside one of the fish tanks, a diver showed the shirt. This kit is already available in the Club's official stores, both physical and online.
Following the principles of circular economy, the Forever Green kit is made of 100& recycled polyester, and they have been manufactured without chemicals.
Apart from the special kit, in real Betis ? RCD Espanyol, the goal nets will be made from fishing nets retrieved from the sea, in collaboration with Ecoballution. This nets will also be used in the hoops during the game Real Betis Basket ? Unicaja, that will be played this Sunday.
Also, the seats in the sponsors bench will be made of fishing nets, in collaboration with Gravity Wave, one of Forever Green sponsors. The corner flags and the captain armbands will also be made out of recycled material.
For this game, Benito Villamarín Stadium will display advice for a more sustainable lifestyle.
Among other actions, the Club will promote sustainable transport to the Stadium on the day of the match, so the fans can commute on electric scooter, motorcycles and bicycles, in collaboration with Voi, Lime and Acciona.
Real Betis Women ? Atletico de Madrid (29-30 of April) and Real Betis Futsal ? UMA Antequera (13-14 May) will be the other two Forever Green games.
The Club will also measure the carbon footprint of the four games and the impact of this reduction measures, to continue working in search of carbon neutrality.
Last season, Real Betis vs Athletic Club, the Forever Green game 21/22, and the actions alongside it, meant saving 011 tCO2e compared to a regular game.