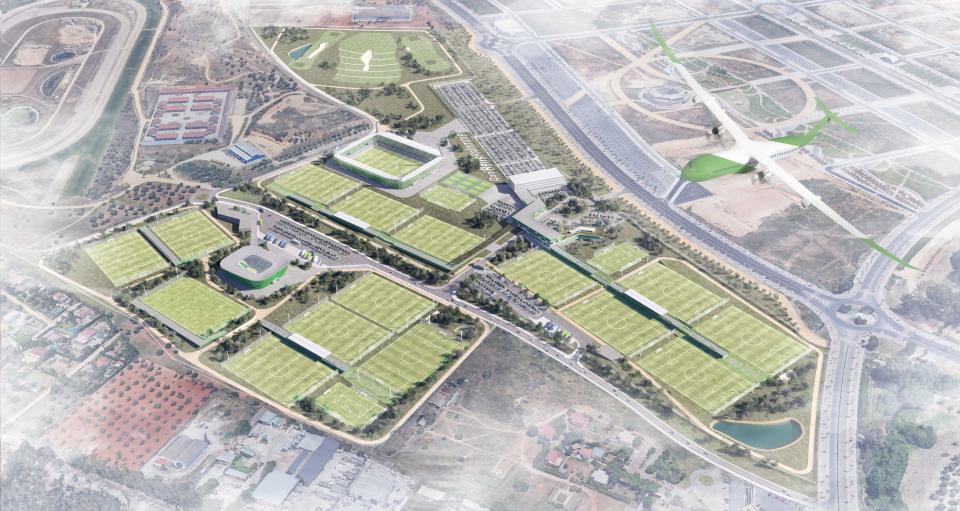 Real Betis will begin the construction of the new Training Centre on the 14th of July
The first phase will be undertaken by Acciona
Real Betis Balompié will begin the works of construction of the new Training Centre in Dos Hermanas on the 14th of July. The construction will begin in two weeks and is expected to be finished next year, so all the Youth teams can work there in the 2024/2024 season.
After a process in which four companies were invited to present their projects, two passed on to the final phase. Finally, the company Acciona was selected and will undertake the construction.
The new Real Betis Balompié Training Centre will mean an exponential change in the future of the Club's Youth teams. The current Luis del Sol Training Centre, that from now on will be used only by the first team, had, for Youth teams, one 11-a-side and one 7 a-side pitch. In the new Centre, they will have at their disposal 5 11-a-side natural turf pitches, 3 11-a-side artificial turf, 2 7-a-side pitches, and 2 working areas for goalkeepers.
Additionally, in this first phase there will be built: dressing rooms and common areas; a building for offices; gym; medical services; and meeting rooms. Also, an additional building for maintenance and access control; a parking lot with capacity for 1,000 vehicles, as well as additional works such as roads, and electricity and water works. Once the first phase is completed, the next step will be the construction of the new residence, with capacity for 100 Youth players. The project has been blueprinted by the engineering company Idom.
This Training Centre will be a pioneer in a bid for sustainability, going along with the Club's project Forever Green. Several points of the project have been thoroughly assessed in this sense: bioclimatic design, natural ventilation, efficient consumption reduction systems, water reusage, use of renewable energies, landscape integration, and low maintenance needs, among others.
Acciona
is a global leading company, leader in providing regenerative solutions for carbon-free economy. Their business offer includes renewable energies, water management and treatment, transport and logistic systems, eco-efficient mobility, resilient infrastructures, etc. The company has been carbon neutral since 2016.