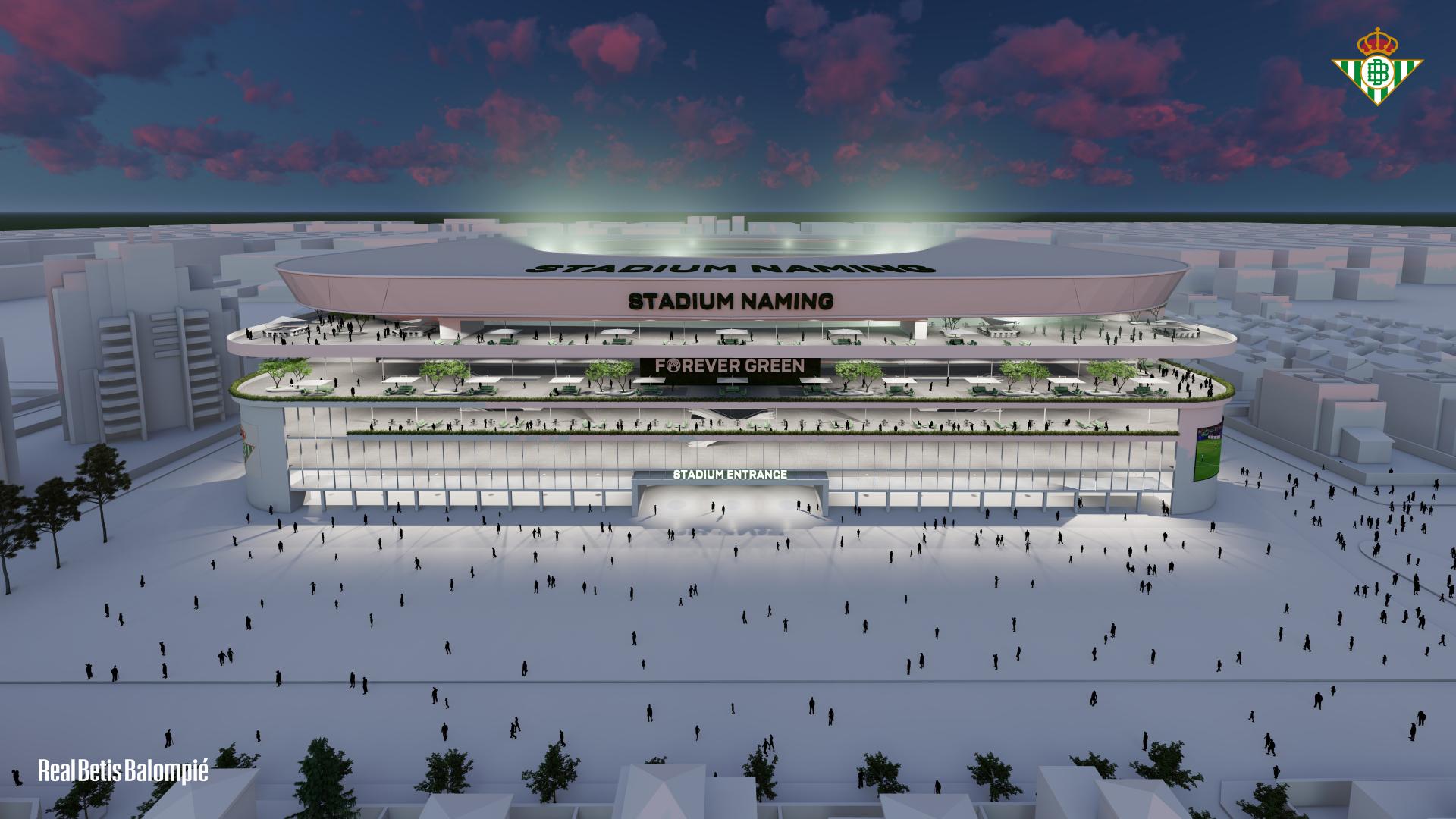 Real Betis Balompié announces an international competition in architecture for the project of the New Stadium
The purpose of the competition is to design the new West Stand (Preferencia) and action on the outside and inside elements of the North, East and South Stands (Gol Norte, Fondo and Gol Sur) and roof over the four stands
Real Betis Balompié announces an international competition in architecture for the project of the New Stadium. The construction will begin in June 2024. The administration board of the institution have opened the time window for the reception of the necessary paperwork for all the professionals and firms interested in participating in the competition. The Club is searching for an architectonic idea and development for their Stadium.
As it is established in the conditions of the competition, "the aim is the design of the new Preferencia Stand (West Stand), and also actions on the outside and inside elements of the rest of the stands Gol Norte, Fondo and Gol Sur (North, East and South Stand, respectively), as well as a roof to cover all four stands. All these elements must be adapted to new aesthetic trends of the brand "Real Betis Balompié", transforming the fan experience, the business model, and the spectator attendance of the current Stadium.
The idea must be innovative and integrate the business model developed by Real Betis Balompié to complete a Stadium that is alive 365 days a year, with special importance of a wide range of leisure and entertainment experiences, both on match days and on every other ordinary day, with a prominent role for new technologies, sustainability and inclusion.
Similarly, the idea must include the urban and commercial development planning.
The budget for the works in the Stadium is 70 million Euros."
This competition means the first formal step in one of the most important projects in the history of Real Betis Balompié, which is to adapt Benito Villamarín Stadium to needs of modern-times football, highlighting the importance of the comfort and convenience of the fans.
The project New Stadium is one of the foundations of Real Betis Strategic Plan 2022-2026, presented by the Club's president Ángel Haro in the latest shareholders meeting. It will considerably increase the revenue of the institution in ticketing, hospitality, events, retail, and new goods and services, both on match days and the rest of the year.
Any party interested in participating in the competition must present proof of previous experience in the building of top-level stadiums. The due date for any professional or firm to present the paperwork necessary is the 21st of March of 2023.
The terms and conditions of the competition can be downloaded here: